Some clients have been with us for more than 10 years. And together we have been through many trends in the webinar industry. Some were made possible thanks to innovation in technology. Bandwidth explosion for example as well as the development of high quality webcams for a reasonable price. Both mean that you can now present from your lounge as if it was a TV studio. 
Other trends were down to content marketing. Content is king, right? This is why you prepare your webcast with the best speakers and experts in your area. We actually have clients who start preparing their webcast schedule months in advance. One of the key advantages is that you can then promote your webinars together, via a single registration form.
For your audience, it does simplify the process to register only once for say, a series of 4 webinars. Similarly, your marketing team can promote your series with one single link. Yet it does not mean that you cannot highlight the content of each presentation. For example the Strategic Engagement and Partnerships team at the IET came up with a series on  the Future of Manufacturing in the UK.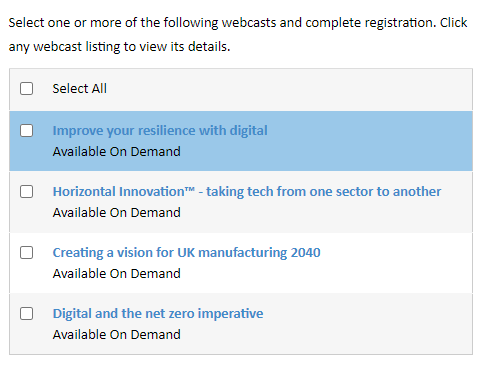 As you can see it takes you to one single form but with 4 presentations. Clicking on 1 webcast on the menu lets you get more information about each in more details. It also gives you the option to pick only one if you wish. As you would have noticed, the imagery for each webcast can be different and this is an excellent showcase of different background images on a single form.
Once you are registered, you will get a confirmation for each event together with a calendar reminder. They tend to run bi-weekly or monthly if this is a series. If all webcasts have been run already and are available on-demand, you can also watch them in one go if time permits. It is quite effective that way actually. In such instances, the page after registration will let you pick which event to watch. Chronological order is probably the most logical but again you can watch in the order of your choice.
Promotion between webcasts
You can also build a series with episodes. That is to say that one can get to the next presentation if you have attended one, either Live or On-Demand. Of course you can promote each episode separately to boost your registration through organic growth. But you know that actual attendees and previous registrants will get exclusive access.
The best practice in such instance is to get an icon on your console for one click registration onto the next episode. This would be the equivalent of a multiregistration page but without the effort of setting-up your event calendar in advance. If you ask and work with digital marketeers, you will know that this can become a burden. Not necessarily with the content marketing schedule but with securing guest speakers well in advance for example. Actually, we have different ways to promote self-registration so please get in touch to review options.
Last but not least, let's review a series when and where all participants are pre-registered. Because yes that is possible and it will let you promote a series through a single registration with a single email in between each session. This is quite the norm actually for multiple webcasts being run over the same day or over a couple of days. It means that you are promoting your digital event through a single touch point. It will also let you control the flow of emails in between.  Here is an excellent example, courtesy of HarbourVest Private Equities.
Simple yet effective. Registrants signed off for a whole day session which was actually hybrid. Remote viewers received a single email with links to all sessions so that they could get back on track in case they had to step away from their desk. In the business world, this can happen. So always make sure that all angles are covered when you run a series.
Audience boost in the long run
With the serialisation of your webinar programme, you also build momentum and expectations. Early attendees will probably share with a colleague or 2. And them in turn will invite more. Of course you can carry on promoting past sessions via On-demand viewing.
Thanks to the analytics being captured, you can measure your return on investment easily. The chart below is from an experienced client who did set-up a 9 webinar programme last year. Between the first event and the last one, live audience increased by 45%. And without a doubt, this is the main reason why webinar series are on the rise.
There are far more findings on this chart but it will be a topic of discussion for another blog on the power of analytics for webinar preparation. Stay tuned!