Fluid solutions for every business.
Since the pandemic began, we have recognised the need to keep up with ever-changing industry requirements for online events, and therefore we have continually adapted our methods in order to stay ahead of the curve. By avoiding the "blockbuster syndrome," we are able to maintain this high standard.
Rather than having clients adapt to our offerings, we have ensured we have a variety of options that fit OUR clients' needs.
Webinars are available to all, from bulk buys that don't require a subscription to enterprise solutions with Pay-As-You-Go options.
Check out our array of solutions and view our open pricing plans.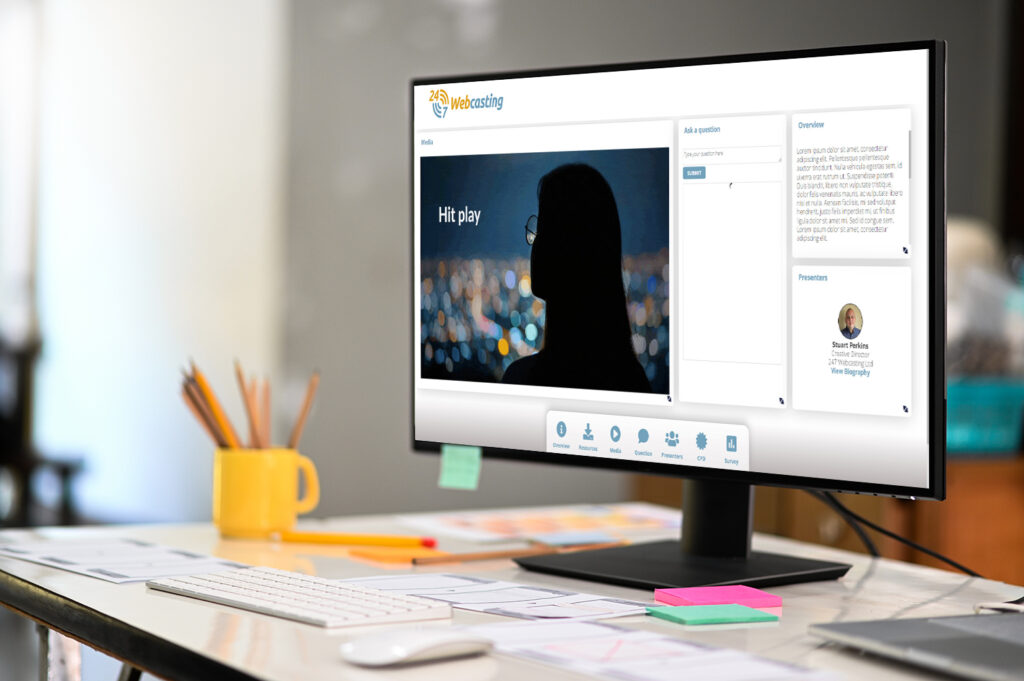 Data Is The Key To Unlocking Webinar Success
At 247Webcasting, we understand that data is crucial. Without performance metrics and engagement analytics to track the efficacy of marketing investment, it is futile.
That's why all of our services are accompanied by an extensive but straightforward analytics programme, giving you detailed metrics and full visibility so that you can stay up-to-date.
The Insight Dashboard keeps a record of all the interactions, clicks, documents downloaded, and conversions your attendees make. It's accessible in real time during the event and securely retained for post-event analysis. All this comes as part of 247 Webcasting's services.
An extension of your team!
Help us alleviate the added stress and pressure of building and managing events with our full-service support packages.
From the moment you Book one of our experienced webcast managers will become an extension of your team, simply fill out the booking form sent to you with all the requested information, they will go ahead and build your event for you in as little as 24 hours!
Once built it will be sent for you to review and approve, once approved, all promotion links along with your secure reporting will be sent to you so you can start to promote.
We also train you and your presenters in an in depth and clear "speaker training session".
When it comes time to broadcast your event, we are still with you, we organise the invites with a 30-minute pre-call, support you all the way through the event until close.
Its as simple as
Book
Build
Broadcast.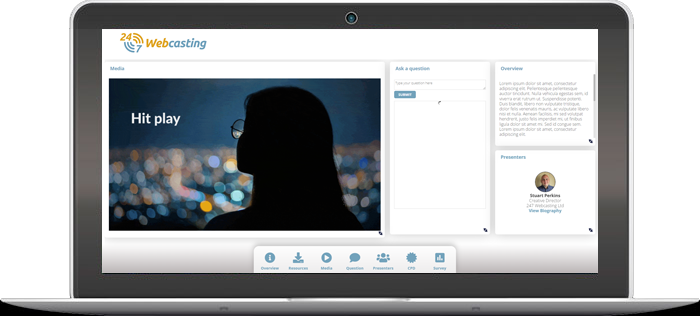 Keep your audience engaged
The visuals for your entire event are important, it needs to be an extension of your or your client's brand. As soon as they hit the registration page, it needs to look enticing, professional, modern and clear, the same goes for the automated emails and thank you page.
But, the most amount of time is spent on the actual audience console or "auditorium" this is where they will watch the presentation.
It needs to be interactive, easy to navigate and professional. Other platforms may give you a few customised areas such as colour and branding, but they all rely on a modular build system.
These can be fine for simple events as soon as you start including more and more features, you'll soon see a large amount of overlapping which can distract from the key point of the presentation, cover branding and become all a bit of a mess. With our multiple layout system, you can pick which layout is the best for your event.