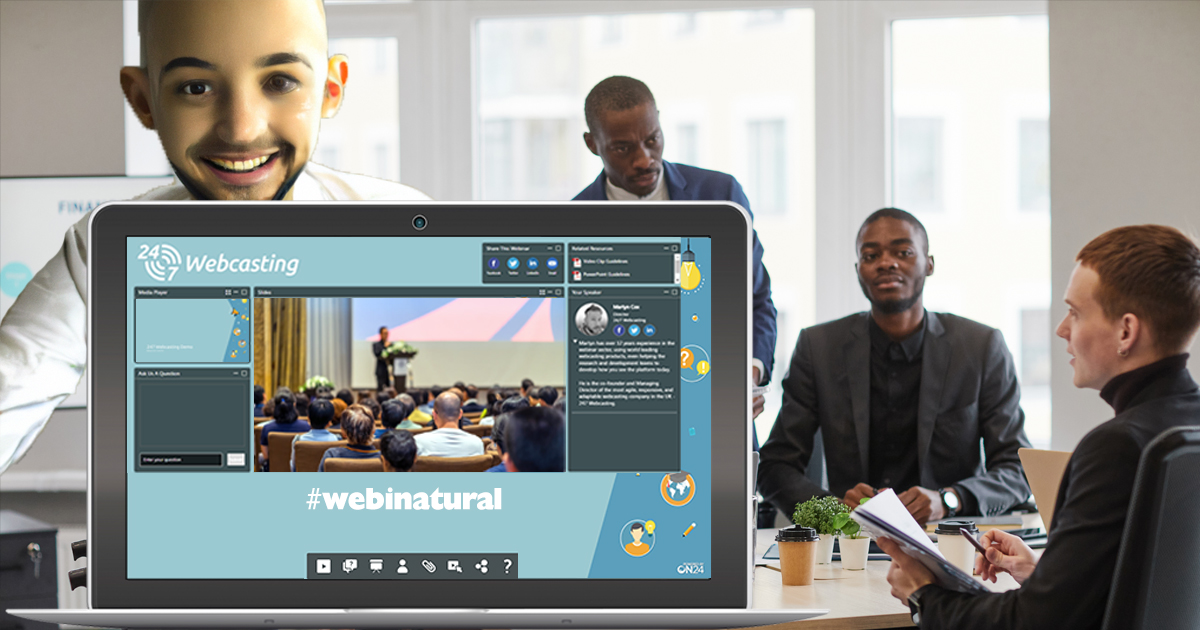 Provide your viewers with an improved webinar experience. Make certain that their time is well-spent by creating content that is interesting and engaging. Ensure the presentation is smooth and enjoyable, so they can obtain maximum value from the event. 
Design engaging webinars that your audience will appreciate and meet your desired outcomes.
Developing customer journeys that are both engaging and ongoing can be beneficial for your business. Crafting these journeys in a way that's focused on customers is key to driving customer loyalty, satisfaction, and advocacy.
Interact with audiences instantly using the Conversion and Engagement Tools to engage them, qualify leads and speed up their content exploration and purchase processes. Upgrade your webinars with powerful customisation elements that are maintained throughout all experiences.
Tap into audience engagement and transform it into actionable data. Leverage this valuable feedback to make informed decisions for your business.
Patented back-end analytics capture audience interest and readiness to purchase, as well as performance of programs and content. The ON24 AI Engine provides tailored content suggestions to ensure informed follow up. This intent can be effortlessly incorporated into your CRM, marketing automation platform or any other business system you use, in order to influence nurture and maximize program efficiency.
Generate leads, increase sales and maximize profits.
ON24 webinars are the ideal way to increase your demand generation efforts, generate more revenue and build up your pipeline. Utilise powerful behavioral and buying insights to determine potential leads and speed up their buyer journey. Personalised follow-up is possible thanks to these valuable tools.
If you're hosting a webinar, make it your own! Customise the look, feel and content of your webinar to ensure that it resonates with its intended audience. Personalise it so that your attendees can connect on a more intimate level. Make your webinar one-of-a-kind by giving it a unique spin.
Make your webinars stand out with our highly customizable consoles, which can captivate viewers and aid in their journey. Our software will help you show off your brand in the best light possible.
Media Player is a popular application that has been around for many years. It is used by many people and offers a variety of features.
Enable streaming audio and video during your webinar, and provide on-demand viewers with the tools to adjust their viewing experience, such as pausing, fast-forwarding or rewinding.
Questions and Answers are both important for getting to the bottom of any issue. Questions can be used to ascertain information, or deeper understanding of a particular topic. Answering those questions helps to further define the subject, or provide more clarity.
Connect with your viewers and enable participants to obtain the responses they desire during an online seminar through simple, easy to use Q&A.
Content and resources.
Allow viewers to access materials related to the webinar by offering product documentation, slideshows and links.
Conversion Tools
The Conversion Tools enable audience members to identify their buying readiness and interest, such as with Contact Us, Book Meeting, Request Demo and Start Free Trial.
Survey
Gather feedback to acquire an understanding of attendees' interest and intent using various questioning methods.
Customisation & Branding
Make your mark with custom-tailored webinar consoles, engagement tool images, and window visual style.
247Webcasting makes it easy to create dynamic and attractive webinars. Their user-friendly platform is supported by excellent customer service.
Powerful backend tools that facilitate every program necessity are essential to success. They provide the infrastructure and stability necessary for enduring success.
Create a unique and lasting impression with a personalised webinar console. With a range of features such as customisable backgrounds, images and icons, there are plenty of ways to capture your audience's attention and generate conversions. Make use of over 20 tools for greater results.
Scaling recurring programs is essential for businesses to keep up with the pace of change. Keeping programs running efficiently and effectively is fundamental for businesses to remain competitive.
Easily create and run campaigns or demos recurrently, using simulive webinars on a set schedule. Promote one URL to your audience and they can pick their preferred date to attend! With this efficient option, you can plan daily, weekly or monthly programs that are repeatable.
Conversion Tools
Invite audiences to engage with Conversion Tools – like Book Meeting, Request Demo and Start Free Trial – to track buying signals. These tools give audiences the opportunity to demonstrate their buying intent.
Have you ever heard of automated captioning?
Automated captioning is a technology that uses speech recognition to produce captions in video and recorded audio. It's an incredible advancement that can make content more accessible. This powerful tool helps make video and audio files more usable for people who are deaf or hard of hearing.
Reach an even broader global audience with the powerful speech-to-text technology. Automatically generate captions in up to 50 languages and make your content accessible to everyone.
Analytics and reporting
Two important tools for better decision-making. They provide tangible data which can be used to take the best course of action. These insights give an indication of what is happening and inform best practice decisions.
The intelligence engine is a powerful tool essential for gaining insights into content performance, following up on individual and account-level engagement data, and finding leads that are prepared to progress in their journey.
We offer a range of integrations to make your workflows efficient and straightforward. Our services provide seamless integration, ensuring a smooth transition between processes.
You can watch videos without any restrictions, streaming to your device at any time and from any location.
Generate interactive live, simulive, on-demand and forum webinars that grab your audience's attention and give you the immediate information you need to assess buyers' potential and progress along their journey. Connect with participants directly in real-time through live and simulive events, or provide them with on-demand access to webinars from anywhere using a desktop, tablet, or mobile device.